Wall Street Stock Tickers & Financial Tickers Keep Viewers Posted of the Market Activity
Ever since the first stock tickers were invented, ticker displays have come to symbolize financial trading. They are critical in keeping up with the fast-paced changes in the stock market. Your LED stock ticker display is the lifeblood of your financial institution. It must perform.
We get it, finding an LED financial ticker or stock ticker display that fits your space can be confusing. We've installed hundreds of stock market tickers in banks and brokerage firms just like yours and we can help you create the energetic atmosphere you are looking for.
Give Your Customers an Edge
Your viewers need information and they need it fast. Real-time stock ticker displays are big, bold, and bright allowing you to connect to the rapidly changing markets. Bring your services to life, retain more customers, and attract new customers with our custom LED retail ticker displays.
Put your financial credibility on display to reinforce your expertise to your customers.
Styles of LED Stock Ticker Displays
Your LED stock ticker display is best when planned into your space, not added as an afterthought. When you select a highly visible location for your financial tickers, you can create a one-of-a-kind experience that makes your retail branch unique and different from the competition down the street. Your primary objective is to get visitors to stop and say "Wow! That's cool."
Straight
Stock tickers can be built to any length. We start at 78 inches and can expand in as little as 7.5-inch increments to as long as you need. While the average stock ticker is around 30 feet in length, we have built displays over 400 feet long.
Wrap Corners
Don't let the length of your wall dictate the length of your stock ticker. Our displays are designed to take corners in stride. Inside corners, outside corners, custom angles, wrap the entire room it doesn't matter. A stock ticker can turn more than corners…it can turn heads, surrounding your viewers with live information from any direction.
Flexible Curved
Don't assume your LED stock ticker display has to be mounted on a flat surface. With a LED ticker, we can bend your ticker to fit almost any surface, serpentine, concave, or convex. The cabinet is flexible and designed to form to the shape of your finance lab, no custom engineering required.
Circular
We can wrap circular, oval, and elliptical surfaces as tight as a 30 inch radius. The circular designs for LED stock market tickers can be on the inside or outside of the circle attached to an existing structure or suspended from the ceiling.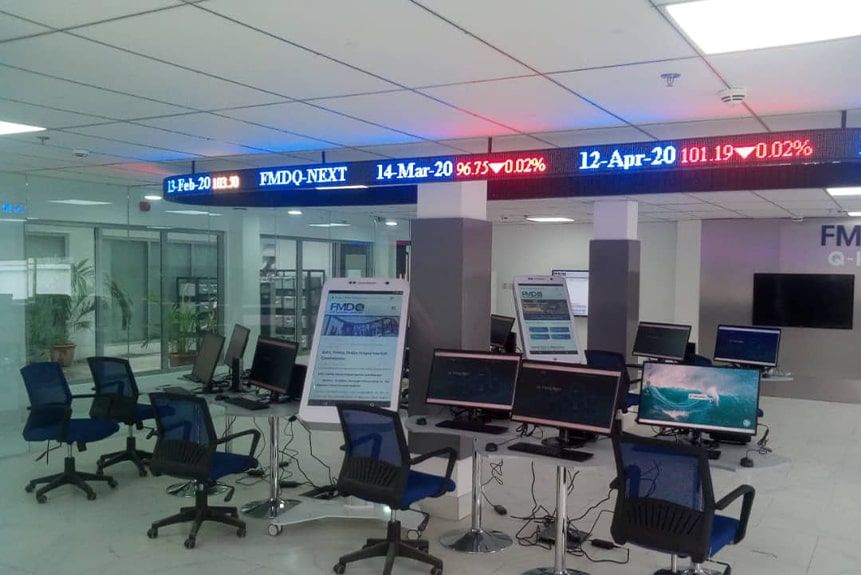 Ceiling Mount
While most stock tickers are wall-mounted, we can ceiling mount units in open spaces, in front of windows, or even put ticker cabinets back to back.  Most ceiling mounts leverage ½" NPT conduit but we have also suspended tickers with aircraft cable.
Vertical
When you rotate a stock ticker to travel vertically, it helps draw attention to your space by dressing up structural columns or helping to tie multiple floors together. The data can be news, sports, stocks, or any other messages you can dream up that connects with your audience. Breaking the traditional rules adds excitement and sets you apart from the ordinary.
Anything Other LED Stock Market Ticker You Can Dream Up
While the above cover the normal financial ticker customizations we can also customize your stock ticker with:
Match custom cabinet colors
Daisy chain sections together to "jump" openings
Weatherproof the cabinet for outdoor stock tickers
Frequently Asked Questions (FAQs)
Check out our answers to the most common questions around stock market tickers.
What is an LED stock ticker display?
An LED stock ticker display is an electronic display that uses LED lights to show real-time financial information, including stock prices, gold prices, Bitcoin prices, and market news, using scrolling text and lights.
How does an LED ticker display work?
LED stock ticker displays work by receiving real-time financial data from a feed or software, and then displaying the information as scrolling text through small LED lights on an electronic board or screen. Check out our Learning Center for more information on the ticker hardware & software used.
What are the main benefits of a stock ticker display?
Stock ticker displays provide real-time financial information and news, which can be useful for traders, investors, and anyone who may be interested in the stock market. Tickers can also be used as a marketing tool or as a way to display news and information in a public or office area.
Where can stock tickers be used or installed?
Stock tickers can be used and look great in a variety of settings, including financial institutions, trading floors, financial advisor locations, corporate offices, sports arenas, and even in public spaces such as airports or train stations.
What features should I look for in a stock market ticker display?
When choosing a stock market ticker display, it is important to consider the size, resolution, brightness, display customization and color options. You should also look for ticker displays that are easy to install and maintain, and that come with software that can be easily customized to fit your needs, all of which Rise Display is proud to offer.
How much do LED stock ticker displays cost?
The cost of an LED stock ticker display will vary depending on the size, resolution, and features. Small ticker displays can cost a few hundred dollars, while larger displays can cost several thousand dollars. Our team will be happy to consult with you and give you a quote based on your stock ticker display needs and preferences.
LED Stock Market Ticker Examples
Check out some of our recent LED stock tickers and financial ticker display installations for financial firms: